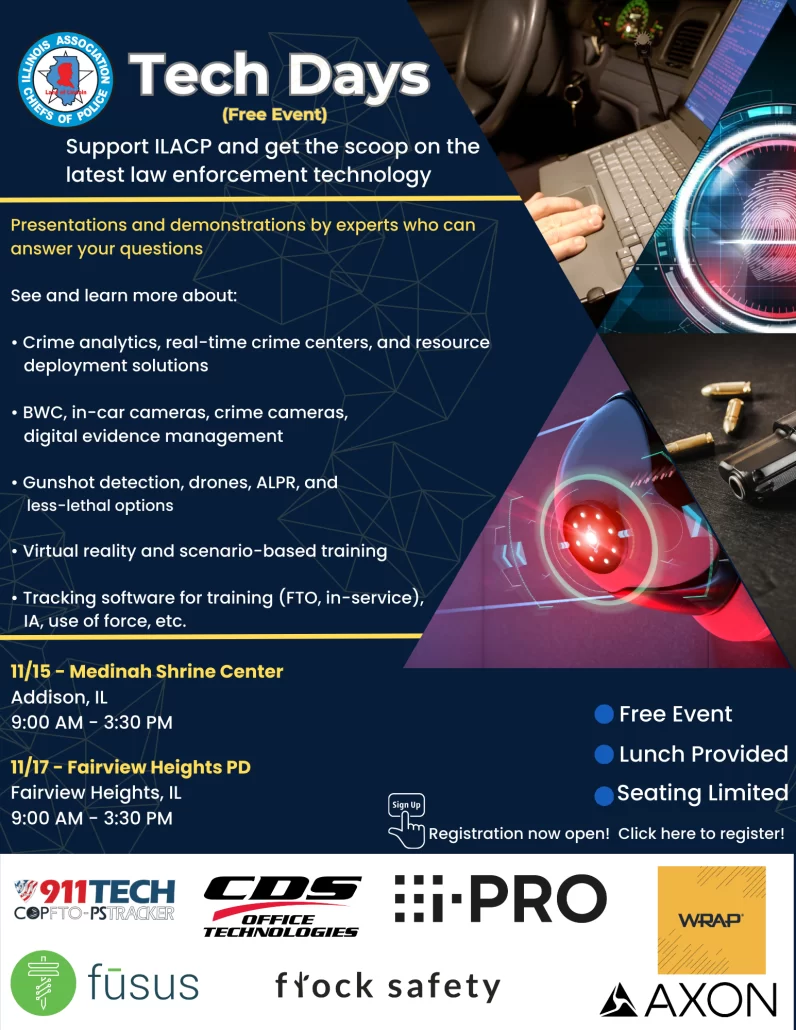 ILACP Tech Days
November 15 & November 17
The Illinois Association of Chiefs of Police (ILACP) is gearing up for its first-ever Tech Days event! One in Northern Illinois and one in Southern Illinois. Attendees will receive quality presentations, demonstrations, and information on a variety of new and emerging technologies. They will also be given an opportunity to visit and ask questions of the vendors. The technology companies presenting were chosen based on need and the answers to the ILACP's technology survey.
EVENT DETAILS
November 15 – 9 a.m. to 3:30 p.m. – Medinah Shrine in Addison, Illinois – Register Here
November 17- 9 a.m. to 3:30 p.m. – Fairview Heights Police Department – Register Here
Cost – FREE and lunch will be provided to attendees and vendors at both locations
Seating is limited, so register early.
Tech to be presented includes:
Crime analytics, real-time crime centers, and resource deployment solutions
BWC, in-car cameras, crime cameras, digital evidence management
Gunshot detection, drones, ALPR, and less-lethal options
Virtual reality and scenario-based training
Tracking software for training (FTO, in-service), IA, use of force, etc.
ATTENDEES
This event is open to law enforcement executives, IT managers, crime analysts, investigators, patrol officers, and state and local CIOs and CTOs seeking to obtain more information on a broad array of current and emerging technologies.
Registration closes on November 10th at noon.  In order to get an accurate lunch count, those attending the Addison event are asked to register by noon on November 6th.